Enchanting Environments from The Elfin Peddler

ENCHANTED DWELLINGS:

Elf & Fairy houses: indoor-outdoor, all natural materials, many sizes, each unique. Custom orders available.
Et cetera: companion objects: e.g. driftwood cat playhouse, wee stump chairs, twig & rope ladders and bridges


ENCHANTED GARDEN DESIGNS

fairy & woodland garden designs
Elf house installations with landscaping
perennial, prairie, container, & rock garden designs

About Elf & Fairy houses:


These whimsical homes are each unique, intuitively created, letting the materials and imagination inspire the outcome. Except for the hardware, interior structural framing and flooring components, all are made of personally gathered natural materials, or of those supplied by clients for specific commissions. All are assembled with weather resistant adhesives and hardware, and treated with acrylic deck sealant to aid in weather proofing.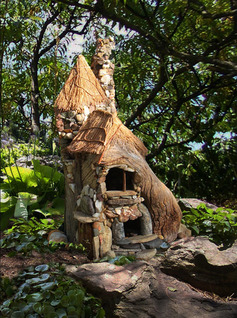 ELF HOUSES

The larger houses range from 12" to 24" high, or larger for custom work and garden installations. Each has a working chimney lined with metal flashing, with fireplace fitted for votive candle or electric nightlight accessible from rear or bottom. They can also accommodate stick or cone incense, which makes for a beautiful fragrant coil of smoke issuing from the chimney. They have working doors and basic rustic furniture of table & chair and bed or hammock.

These are garden worthy structures (where I have also known little friendly chipmunks and sparrows to take up residence) as well as interior habitats. But please note that all outdoor installations will weather and fade or bleach with time and can degrade. I recommend situating on a rock or gravel base, and treating with acrylic deck sealant every 3 years or so. Prices range from $350 - $950 generally, according to size & complexity. Please contact me for sales and custom orders. View currently available houses below.
---
FAIRY HOUSES

Smaller but sturdy indoor-outdoor one of a kind dwellings, usually between 4"-6" high x wide, these have working doors and modest furnishingsand can accommodate battery powered tea lights. They appeal to more diminutive folk, and are at home equally on tables, with house plants, or in garden, patio, and even tree branches. Prices vary between $125 and $195, depending on size and complexity. Some 2 story may be up to $295. Custom orders available. Examples of past houses below. Current stock can be found and purchased in my Etsy store

The Elfin PeddlerPETITE and MINI FAIRY HOUSES

Diminutive dwellings for indoor or outdoor fairies, fairy gardens, plant companions, shelf decor, and smallest size are created to hang as ornaments. Each is unique, made from branch sections that have been heat sterilized to kill all bugs & fungus.

These range from 3/4" to 3" diameter, 1.5"-5" high. Doors are wood burned, stained and detailed, then inset into flat areas carved in the branch section (Sorry these doors only open for fairies.) Prices range from $9-$40 depending on size & complexity. Current stock can be found and purchased in my Etsy store

The Elfin Peddler

---
ELF HOUSES (currently available)
FAIRY HOUSES EXAMPLES (these have all sold but similar can be created)

ET CETERA: A few examples: elf & fairy swinging rope bridge & ladder, driftwood cat playhouse, garden trellis

Enchanted Gardens -- examples

"GARDENING IN THE COMPANY OF ELVES" - 2009 Cincinnati Flower Show

Overall show theme was 'Fairies in the Garden'. My display was called 'Gardening in the Company of Elves', installation on 8' diameter table top with native plants and moss, hypertufa boulders with plant pockets and my own bonsai trees, and elf and fairy houses. Won gold horticultural award. (Read and view more on my blog 'Creative Works', entry 2009)

"ENCHANTED SPRING" - installation at Krohn Conservatory in seasonal exhibit wing, Cincinnati OH 2013, with DeVore's Land & Water Gardens
(Read and view more on my blog 'Creative Works', entry February 2013)

FAIRY GARDEN - Design & Installation at Oxford Community Arts Center-Children's Gardens - for interaction & play 2013
(Read and view more on my blog 'Creative Works', entry June 4, 2013)